Phoenix Commercial Ventures Attends 11th Pyongyang Spring International Trade Fair
The trade fair ran from 12th to 15th May and attracted businesses, their representatives, ambassadors and delegates from countries including the DPRK, China, Taiwan, Singapore, Australia, Indonesia, Britain, Switzerland, Germany, Italy, Hong Kong, Russia, France and the Netherlands.
The displays included machine tools, electronics, vehicles, medicines, petrochemical products, consumer goods and foodstuffs.
Representatives from Phoenix Commercial Ventures attended the fair and manned a stand representing member companies of the European Business Association in Pyongyang, together with members of the management team from Sinji JVC and Hana Electronics JVC (joint venture companies formed with Phoenix) and Daedong Credit Bank – Phoenix's banking partner in the DPRK – (since 2000 Daedong Credit Bank has been 70% owned and managed by a company run by professional fund managers. The remaining 30% is held by Korea Daesong Bank).
Nigel Cowie (who is CEO of Phoenix, General Manager and CEO of Daedong Credit Bank and Vice President of the European Business Association) said:
"The trade fair provides an ideal venue and opportunity for companies to showcase their products and services, as well as providing an excellent networking opportunity. Phoenix Commercial Ventures and Daedong Credit Bank are proud to have participated in this regular event, which provides a springboard for economic development and growth.

Although the fair provides the opportunity for participants to establish new contacts for trade relationships, we also wanted to emphasise investment opportunities. Something that is often overlooked is that it is perfectly possible to create and run successful joint ventures in the DPRK. We have shown this with Daedong Credit Bank, which has been operating successfully for 13 years, and with Hana Electronics, which has been doing the same for five years, and are in the process of repeating the process with Sinji JVC, our youngest joint venture."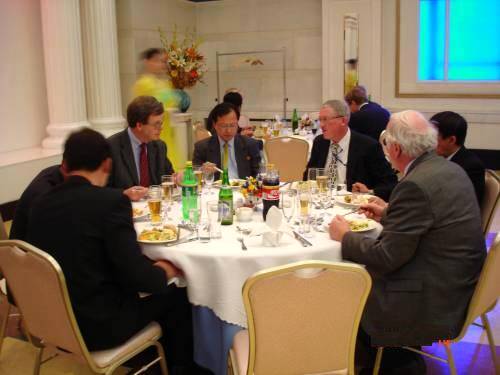 Nigel Cowie (CEO Phoenix) attending the trade fair lunch at the German Embassy Pyongyang hosted by Dr Thomas Schaefer, German Ambassador (left of centre of picture), also seated Kim Il Ryong, Vice Chairman, Korea Committee for the Promotion of International Trade (KCPIT), O Il Hun, Vice President, KCPIT International Exhibition Corporation, Ryu Jong On, President, KCPIT Jonlam Trading Corporation, Professor Eckhard Rohkamm, President, German Asia-Pacific Business Association, Jon Yong Guk, Director, Korea International Exhibition Corporation

For additional information, contact Phoenix Commercial Ventures Ltd.
About Phoenix Commercial Ventures Ltd
Phoenix Commercial Ventures Ltd offers investors business and investment opportunities in the Democratic People's Republic of Korea (DPRK), enabling them to take advantage of the economic reforms that are taking place there.
Phoenix Commercial Ventures Ltd maintains an office in Pyongyang, almost the only European company to do so, and operates with the following specific aims:
● Identify commercially viable investment projects in the DPRK, on a case by case basis
● Identify reliable local partners for all forms of business in the DPRK, either trade or investment
● Seek overseas investment sources for such projects
● Minimise the risk in such projects, by taking responsibility for supervision of the local set-up procedures and management of the projects
CONTACT INFORMATION:
Phoenix Commercial Ventures Ltd office address in Pyongyang is:
Phoenix Commercial Ventures Limited
No. 901
International House of Culture
Ryonhwa-dong
Central District
Pyongyang
Democratic People's Republic of Korea