The Restaurant At Hana
Hana Electronics Opens "The Restaurant at Hana"
Pyongyang/London, July 8th 2011
Phoenix Commercial Ventures Ltd (www.pcvltd.com) is proud to announce that Hana Electronics JVC (a 50/50 joint venture based in the DPRK) completed and moved into its new headquarters based near the T'ongil Market in Pyongyang in Q1 2011.
Having moved in and set up its production facilities, Hana has now opened a restaurant ("The Restaurant at Hana") and related leisure facilities (swimming pool, sauna, hairdresser, bar, gym etc) in its headquarters.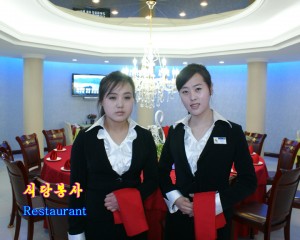 The restaurant (which comprises a main dining room and several private ones) and leisure facilities are open to locals and foreigners alike. The menu comprises mainly Korean dishes, together with a few Western ones. Food for the restaurant is sourced from local markets.
A video and photos of the restaurant can be viewed on the Phoenix website.
About Phoenix Commercial Ventures Ltd
Phoenix Commercial Ventures Ltd offers investors business and investment opportunities in the Democratic People's Republic of Korea (DPRK), enabling them to take advantage of the economic reforms that are taking place there.
Phoenix Commercial Ventures Ltd maintains an office in Pyongyang, almost the only European company to do so, and operates with the following specific aims:
• Identify commercially viable investment projects in the DPRK, on a case by case basis
• Identify reliable local partners for all forms of business in the DPRK, either trade or investment
• Seek overseas investment sources for such projects
• Minimise the risk in such projects, by taking responsibility for supervision of the local set-up procedures and management of the projects
About Hana
Hana was established in May 2003. In 2004 it began manufacturing and selling DVD and VCD players, as well as pressing and selling CD's.
When the company first began operations it employed barely a handful of people. Now it employs over 200 people, and has thus become a major employer with significant social responsibilities which it takes very seriously.
Hana have established a nationwide distribution network throughout the major cities in the DPRK. Whilst they manufactured and marketed CD's, they had an exclusive long term contract with the Mansudae Arts Centre, which belongs to the Ministry of Culture, one of the partners in the JV, for 300 works including; movies, karaoke and other music.
They now produce and sell a range of DVD players, and will move into other consumer electronics products.
Hana is now ranked as one of the top three best performing joint ventures in DPRK, as assessed by the Ministry of Finance.
Hana is proud to have introduced a number of firsts, which show the evolution of the DPRK to a market economy. These include:
• Advertising – the Hana logo, together with the company's telephone number, appear on every product and packing case
• Offering a guarantee – Hana has also introduced a six-month, no questions asked, guarantee on all products
• Distribution System – Hana have gradually established, from a zero base, a distribution system covering the whole country. They have set up sales offices – for example, in Chongjin, they now have one main office and 13 sub-branches; in Hamhung, they have one main office and 3 sub-offices, and also have offices in Nampo, Sariwon and Sinuiju. They plan to open more outlets, first in the other provincial cities, then in the smaller county seats
• Hana intends to diversify and expand their range of products.
• Hana moved into its newly constructed building, next to the T'ongil Market, in Q1 2011.
• Hana has also opened a restaurant ("The Restaurant at Hana") and leisure facilities (including a swimming pool) in its new building. The restaurant and leisure facilities are open to locals and foreigners alike.
CONTACT INFORMATION:
Phoenix Commercial Ventures Ltd office address in Pyongyang is:
Phoenix Commercial Ventures Limited
No. 901
International House of Culture
Ryonhwa-dong
Central District
Pyongyang
Democratic People's Republic of Korea
Corporate Website www.pcvltd.com